Little Autumn came to us from our vets office. She had
been abandoned and sadly tested FELV+
She is a very sweet little kitten.
UPDATE: She was retested at 6 months and tested
negative as we suspected she would. She is still a little
wild child who loves to play!
UPDATE: Now as an adult, she continues to do well and
still loves to play!
You may watch her life on Ustream on Saturdays.
Sponsored by Stephanie - Thank you!
Sponsored by Anna - Thank you!
Sponsored by Ginny - Thank you!
Sponsored by Mary - Thank you!
Sponsored by Sean - Thank you!
A cute video of Autumn playing as a kitten
Autumn with her sponsor Ginny
Another cute video of Autumn as a kitten playing
You can see the lines on her forehead for the laser treatments.
Sponsored by Karen - Thank you!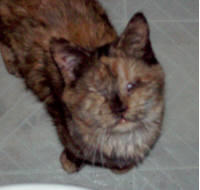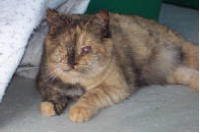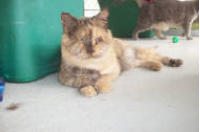 The laser treatments bleached her hair white
2/10/2016 Today Autumn lost her battle with nasal cancer.
This little girl so touched our souls and will be so missed.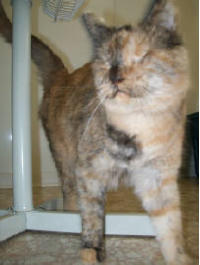 1/16/2014 Autumn is 3 years old. She has been diagnosed with
nasal cavity cancer. The oncologist feels that if the cancer has
not spread and with radiation and chem treatment we can buy her
years of quality life.
8/2014 She has had all of her radiation treatments and is undergoing
16 chemo treatments she should be done by the end of the year.
She is doing well. We appreciate everyone's help with her treatment!
Update, her last chemo treatment is 10/6/2014 and then she will get
another CAT scan to see if we were fully successful. She will have
her CT scan on 10/22. She has had her last CT Scan the vet felt like it
looked good, no more treatments, she will go back in a few months
for a check up. 4/2015 Sadly the cancer has returned. She is doing
well with steroids. We will not do any more chemo or radiation. We
are keeping her comfortable and pain free.
She lost her eye a 2 months before her death. It was
damaged from the radiation treatments
RIP sweet girl. You touched our hearts.